FILM HOME PAGE
Films between 1919 & 1939
Films between 1940 & 1949
Films between 1950 & 1959
Films between 1960 & 1969
Films between 1970 & 1979
Films between 1980 & 1984
Films between 1985 & 1989
Films in 1990
Films in 1991
Films in 1992
Films in 1993
Films in 1994
Films in 1995
Films in 1996
Films in 1997
Films in 1998
Films in 1999
Films in 2000
Films in 2001
IMPORTANT & NOTEWORTHY FILMS
FEATURING ASIAN PACIFIC AMERICANS

Films in 1997 (Part 3)
Click HERE for Part 1 and HERE for Part 2




(1997)

Studio: Warner Brothers
Director: Taylor Hackford
Writers: Andrew Neiderman, Jonathan Lemkin, Tony Gilroy, Lawrence D. Cohen (uncredited) and Robert Mark Kamen (uncredited)
Cinematography: Andrzej Bartkowiak (A.S.C.)
Cast: Keanu Reeves, Al Pacino, Charlize Theron, Craig T. Nelson, Pamela Gray, Connie Embesi, Kim Chan, Don King, Ray Garvey, Susan Kellerman, James Saito, Harsh Nayyar, Franci Leary, Gloria Lynne Henry, Wei Mei
Director Taylor Hackford transformed the Andrew Neiderman's novel and Al Pacino provides a great opportunity for Keanu Reeves to display his acting abilities. Unfortunately, this incredible story about human weakness, brilliant performance from Mr. Pacino and amazing sequences made this film a surprising success in 1997, but also highlighted his weaknesses in acting.
PLOT: The film stars Keanu Reeves as the lawyer Kevin Lomax that receives a great offer by the unpredictable John Milton (Al Pacino) to work for his big company in New York. He and his wife Mary Ann (the young and talented Charlize Theron) leave Gainesville and see their lives transformed into the most terrible nightmare. The dialogues between Kevin and Milton are extraordinary, specially the last one when the Devil says that Kevin was responsible for every bad thing that happened to him. God gave us free will and he could have made other choices, but he was too ambitious to do so.
Although the story line is terrific and it was a great opportunity for Keanu - the best thing about this film is Al Pacino! The star of many great movies is simply perfect as John Milton. It is very easy to believe that the Devil could be Al Pacino!?!?! Can you imagine how good this movie could have been if Keanu Reeves could only act! (imagine Tom Cruise and Jack Nicholson in "A Few Good Men!")

(1997)
Studio: 20th Century Fox
Director: Ang Lee
Cast: Kevin Kline, Joan Allen, Henry Czerny, Adam Hann-Byrd, Tobey Maguire, Christina Ricci, Jamey Sheridan, Elijah Wood, Sigourney Weaver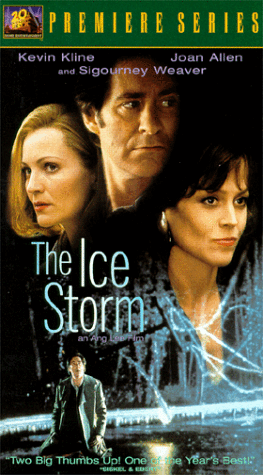 Ang Lee proves that an Asian Pacific American director can effectively communicate an American story with an all American cast to the general public. In this film, Ang Lee sums up America in the early 1970s by focusing on the arrival of the sexual revolution in the 'burbs. In this adaption of Rick Moody's 1973 novel about an actual ice storm, he describes how it parallels activities in upscale New Canaan, Connecticut. A sober and absorbing chronicle of sexuality--repressed and unleashed--in 70s suburbia, but also somewhat clinical and off-putting, until the heartrending finale.

(1997)
Director: Roger Spottiswoode
Studio: MGM/UA
Cast: Pierce Brosnan, Jonathan Pryce, Michelle Yeoh, Teri Hatcher, Ricky Jay, Götz Otto, Joe Don Baker, Vincent Schiavelli, Judi Dench, Desmond Llewelyn, Samantha Bond, Nina Young, Vincent Wang, Philip Kwok, Choy-Ling Man

Michelle Yeoh (of "Crouching Tiger, Hidden Dragon" fame) is the female side-"kick" (literallyl) in Pierce Brosnan's second stint as James Bond. It's appropriate that a Bond film from 1997 would find himself pitted against a media mogul (Jonathan Pryce) who's going to start a global war (beginning with stolen nuclear missiles aimed at China - ironic, in light of recent 2001 events) to create attention-grabbing headlines for his latest multimedia news channel. In this "War of the Words" - Bond is forced to team up with the Chinese External Security Force (Ms. Michelle Yeoh) to "save the world." Luckily for Bond, the villain's wife (Teri Hatcher) is one of his former lovers, and at the behest of his superior M (Judi Dench), 007 finds ample opportunity to exploit the connection. Although it follows some of the formulas of recent previous Bond films, Tomorrow Never Dies (with a title song performed by Sheryl Crow) boasts enough grand-scale action and sufficiently intelligent plotting to keep one's attention - especially with Ms. Yeoh providing ample evidence that she is her equal in many ways and provides a balance to the inherent sexism that exists within the "007" series. Though there are the prerequisite number of gadgets, the radio-controlled BMW and Michelle's fight scenes (with and without Pierce) provide many delights on the screen.
(1997)
Directed by Renee Tajima-Peña
Cast: All of America

What is an Asian American? Am I Asian American? All through school they taught us, 'Learn western history. Don't speak Chinese. You're in America now boy.' I always thought, as an Asian American, I really had to write my own manual on how to live in this country. It wasn't until the Civil Rights Movement came along that I felt like I could become part of America." - Victor Wong in MY AMERICA (...or honk if you love Buddha).

A rollicking ride across the changing terrain of American culture, Renee Tajima-Peña's new documentary odyssey MY AMERICA (... or honk if you love Buddha) recaptures the spirit of Jack Kerouac's novel, On The Road, Asian American style.

MY AMERICA continues Tajima-Peña's film accounts of Asian Americans, which began with her Academy Award-nominated film, WHO KILLED VINCENT CHIN? In MY AMERICA, she recalls her childhood when her vacationing family crossed five state lines without ever seeing another Asian face and hits the road again to explore just how much the racial and cultural landscape of America has changed. She seeks out what it means to be Asian American in our rapidly-changing society and comes across an eclectic group of offbeat and distinctive people. Tajima-Peña's metaphorical guide is the film's "road guru," Victor Wong. An iconoclastic actor (JOY LUCK CLUB, SEVEN YEARS IN TIBET, THE LAST EMPEROR), ex-photojournalist, ex-Beat Generation painter and wanderer, Wong was immortalized by Kerouac in the novel, Big Sur. In MY AMERICA, the 70-year-old Wong emerges as a complex, Buddha-like character who has traveled the currents of post-war American life: the Beat Generation, the Civil Rights Movement, the Vietnam War era while telling many appreciated stories!
His story frames Tajima-Peña's travels, as she discovers how deeply Asian Americans have been entangled in the politics of race. In New Orleans, eighth generation Louisianan Filipinas describe growing up as "honorary whites" in the Jim Crow south. In Seattle, a pair of Korean rappers, known as The Seoul Brothers, express the political awakening of a new generation. Through it all, Tajima-Peña delivers comic projectiles at the stereotypes that color attitudes toward Asians, with characters like Mr. Choi, a fortune cookie-maker-entrepreneur who she dubs a veritable, "Horatio Alger on amphetamines."
But beyond the critique of racism, Tajima-Peña also explores the challenge for Asian Americans now that they are no longer "the invisible minority." Refusing to be cast as second class citizens, Asian Americans are grappling with the question, "What then is their role in the public life of the nation?" In Mississippi and Arkansas, the legendary activist Yuri Kochiyama -- a close friend of Malcolm X -- traces the roots of her own "passion for justice" to her years of incarceration at a World War II internment camp for Japanese Americans. In Los Angeles, a young student named Alyssa Kang defies her mother's expectations and risks arrest to protest anti-immigrant legislation.
As film critic B. Ruby Rich writes of MY AMERICA, "The real road that Tajima-Peña is traversing is the delicate one separating public and private, group identity and individual personality, and she ain't no tourist. If Asian Americans have too often been cast as spectators in the drama of black/white America, MY AMERICA restores their centrality."
Contact Renee at MyAmerica1@aol.com.


site design by Asian American Artistry
for any questions regarding the content, please contact Asian American Artistry
Copyright © 1996-2003 - Asian American Artistry - All Rights Reserved.